A wine's character is inseparable from its history.
Before the accolades and enthusiasts turned this bucolic valley into a worldwide icon, family farmers were drawn by the region's rare interplay of climate, soil, and spirit. These viticultural pioneers would put down the roots throughout their valley, each developing their own unique but equally remarkable character that would come define the Napa Valley and come together to create our Napa Valley Quilt.
Nine unique appellations beautifully interwoven.
From Los Carneros to Howell Mountain, our fruit is drawn from nine distinct, iconic regions throughout the Napa Valley. Each with its own unique character.
These hills flanking Highway 29 provide one of the Valley's most diverse growing regions. The marine influence from San Pablo Bay is strong here with foggy mornings and cool summer nights. This renowned grape growing location is a rare place in the Napa Valley where ti's warm enough to perfectly mature red varieties like Cabernet Sauvignon and cool enough for delicate grapes like Chardonnay and Pinot Noir.
The highest and most rugged appellation in the Valley, this special spot is as exceptional for its sunsets and awe-inspiring views as it is for its fruit.
One of Napa's most renowned appellations, Oakville is officially a two-mile-wide swath of Napa Valley and home to over 50 wineries. The Oakville district was one of the first distinctive wine growing regions within Napa Valley to be officially recognized when it was granted AVA (American Viticultural Area) status in 1993.
The northern heart of the Valley, this narrow strip of land plays host to over 80 wineries and some of Napa's best hotels, restaurants and shopping.
Rising 600 to 1200 feet and exposed to the cool Pacific breezes, Chiles Valley stays cooler, longer than the valley floor.
The town at the top of the Valley, Calistoga is known for its dining, rustic charm and, of course, wine. For winemakers, it's a place of extremes, with the most significant day/night temperature swings in all of Napa.
Rising to more than 2,200 feet, the imposing Howell Mountain forms the northern boundary of the Valley. Its elevation exposes vines here to cooler winds and fog from San Pablo Bay.
Napa's newest AVA is nestled in the southern foothills of the Valley, only minutes from downtown. Still a bit of a secret, Coombsville is somewhat more low-key than other regions.
Los Carneros is the ideal region for our 100% Napa Valley Chardonnay, this district straddles both Napa and Sonoma Valleys. Bordering San Pablo Bay, its subject to cool offshore breezes and rarely reaches temperatures over 80 degrees.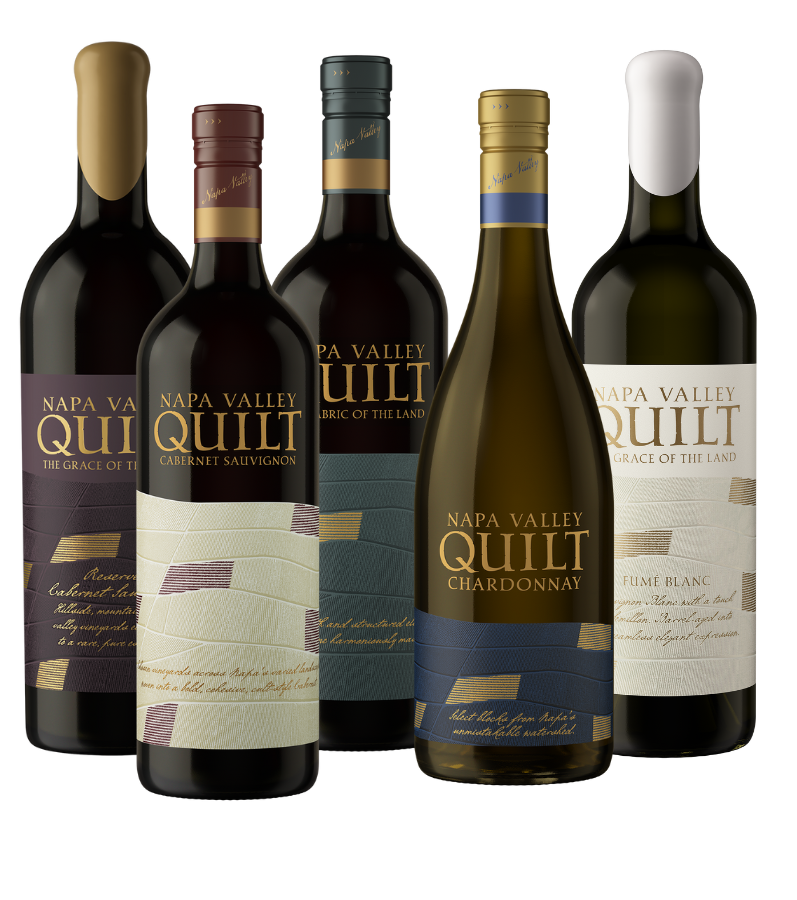 Our Wines
From vintage to vintage, the Napa Valley Quilt wines draw from nine iconic Napa Valley AVA's to create the full-bodied, rich, and decadent wines that reveal the unmistakable character of this renowned grape growing region.





Beyond the Wine. Napa our way.